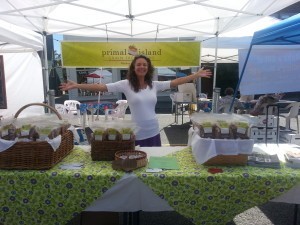 For over twenty years, Marybeth Dickerson, owner and founder of Primal Island Foods, LLC has been on a journey towards health and happiness.  She'll tell you, there have been some twists and turns along the way. She embraced a number of food philosophies from  vegetarian/vegan to The Westin A. Price Foundation, then finally landing on the Primal/Paleo diet in November of 2011.
For more information on the Primal/Paleo diet, check out the website and person that was her inspiration www.marksdailyapple.com.
If you want to get your hands on some fantastic, healthy, paleo diet, grain-free products, Primal Island is a great place to start.
After many requests to buy the granola Marybeth was making in her home kitchen She decided to "go for it" and make it available to as many people as possible. "My goal is to make eating a grain free and organic paleo diet like our ancestors did, easy in the modern world." She said in a recent interview.
Currently, Primal Island offers the most delicious grain free granola on the market, along with tasty paleo macaroons. Keep your eyes out for more products which will be available from Primal Island very soon, including breakfast cereals and pancake mix!
This local Whidbey Island entrepreneur is truly an inspiration and shows that when you have a great product and you make it available to people, it will sell every time. Congrats Marybeth!
Primal Island products are now available in stores across the West coast. You can also buy any of their products online at http://primalisland.com
https://alexbonesteel.com/wp-content/uploads/2020/06/alex-bonesteel-logo-300x83.png
0
0
admin
https://alexbonesteel.com/wp-content/uploads/2020/06/alex-bonesteel-logo-300x83.png
admin
2015-03-20 22:47:41
2015-03-20 22:51:35
Primal Island - An amazing local business